Mobile App Development Company in India
We are providing you the best app development services which will convert your next app idea into a productive app suitable for Android or iOS platforms. Our skilled team has updated knowledge about the latest versions of mobile designing platforms.
Around 68% of the population spends around 162 minutes on their smartphones daily! This means that by having an app for your business, you reach to the wider audience and generate more profit from your business.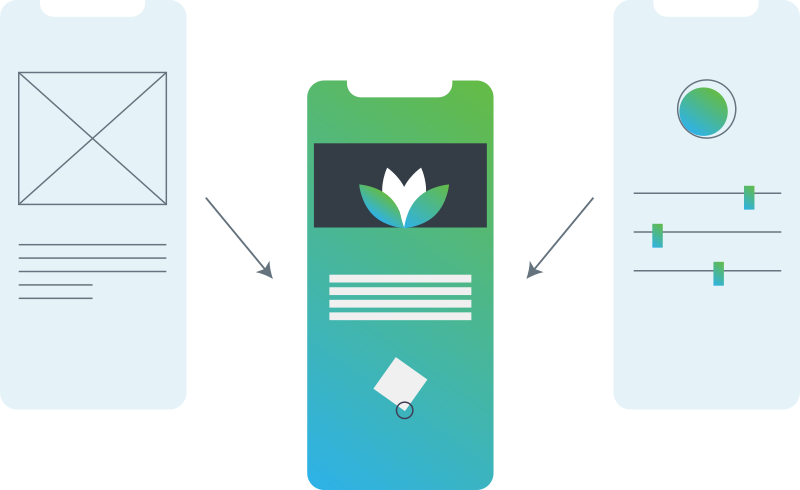 What is Mobile App Development?
Mobile application development is the process of creating software applications that run on a mobile device, and a typical mobile application utilizes a network connection to work with remote computing resources. Hence, the mobile development process involves creating installable software bundles, implementing backend services such as data access with an API, and testing the application on target devices.

iPhone/iOS App Development
For numerous companies with excellent user experience features, we offer flexible iOS app development. By designing comprehensive and knowledgeable iOS applications that meet all of your needs and the specialists' info, we always take the mobile experience to the next stage.

We offer versatile Android app development for different businesses with excellent user experience features. We always take mobile experience to the next level by developing robust and competent Android applications that meet every one of your necessities and details from the specialists.
We take pride in catering mobile application development service possibilities to your business and making them stand unique on the App Store & Google Play.
Transportation & Logistics Apps
We're here for you to develop fast, secure and easy Transport & Logistics App solutions for all the hassles faced by your firm in current scenario
Booking Service Apps
Make your customers most essential and solitude reservations more precise with our user-friendly, cost-effective Booking Apps.
On-Demand Mobile Apps
Lilac Infotech provides personalized on-demand applications which you can deliver valued services at just the right moment that a user needs it.
Enterprise Apps
Merge our end-to-end cloud Enterprise Apps into your business to integrate your organization in one singular instance of data across your entire enterprise.
Retail & E-Commerce Apps
Optimize Your B2B E-commerce business with our strategic sales apps for your online venture from our top-tier engineers.
Social & Communication Apps
Build Social and Communication app for your customers to engage more from where they are without any obligations to think.
How We Make Your Ideas Happen
Requirement Gathering
Running a requirement gathering to determine the client's functional and non-functional essentials.
Strategy Planning
Planning various tactics to meet the client's requirements and desired features of their project.
App Development
Following an iterative process with pre-determined sprint cycles based on the development milestones.
Quality Assurance
Providing an end to end Quality Assurance strategies for ensuring the highest client satisfaction.
UI/UX Design
Creating a robust architecture for the development by following trident quality guidelines.
Deployment
Ensuring the technical viability of our client's product by our technical team and then going live.